Cranberry Health News
Spring 2021
Volume 18 — Issue 1
In this issue:
Meet a Grower: Interview with Nicole Hansen
Cranberries & Human Health
We are thrilled to welcome the Cranberry Institute to Instagram! Be sure to follow us @cranberryinstitute for health news, recipes, and more cran-tastic content! Don't forget to follow us on Twitter @CranInstitute, too.
Meet a Grower: Interview with Nicole Hansen
Early this spring, our Horticulture Chair and grower Nicole Hansen chatted with us about everything from sustainability on the cranberry marsh to how she got started in the industry. Nicole was recently awarded the Service to Industry Award by Wisconsin State Cranberry Grower's Association!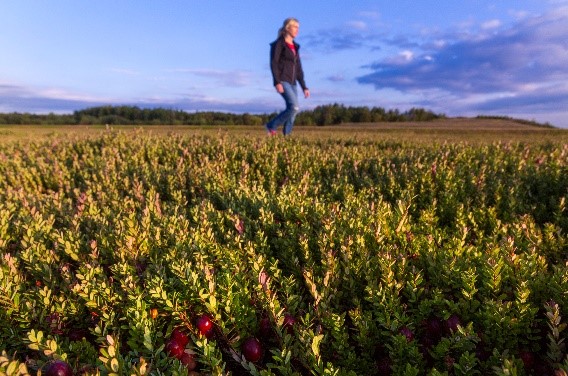 Question: How did you get involved in cranberry farming?
Answer: I grew up on a dairy farm, so I was in the agriculture space from a young age. I went off to school to study biology and chemistry and was working towards my Master's when I started working for a consultant in cranberry pest management during the summer.  An opportunity opened up at Cranberry Creek for someone to take care of the plants.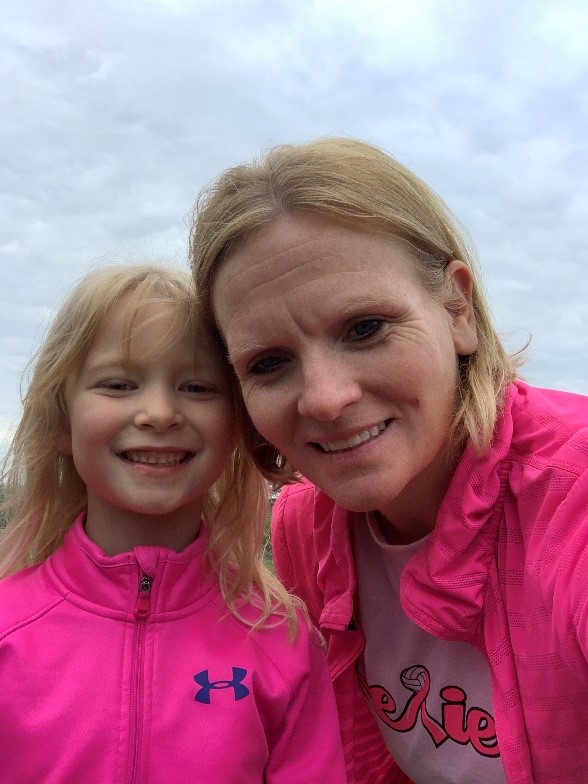 When we looked at the position, we knew agriculture was a great field to raise a family in, so we had that in mind. There are so many opportunities to teach children life skills in this field. We knew this was a great opportunity to raise a family and have an enriching career.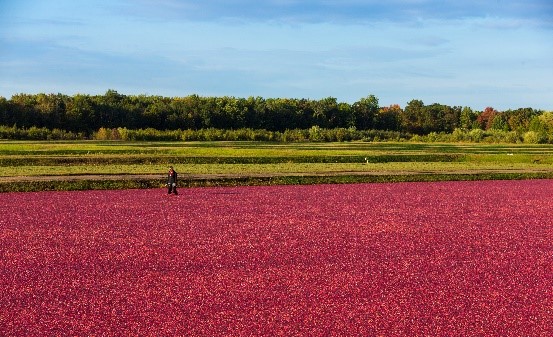 Question: We understand that your area of expertise is horticulture.  Can you share with us how you became interested in the area, and some of the decisions you make day to day?
Answer: With a science and IPM background, I wanted to be involved in the entire process, including with the care of the plants year-round. I was interested in understanding what influences them and how you can continue to innovate within them. I wanted to learn about how to produce a crop. I grew up in non-glaciated Wisconsin, so we did not use any chemicals. As soon as we got into decisions recommending pest management strategies for cranberries, I immediately wanted to be involved in what decisions we were making on the farm, and I had a drive to learn more.
From a day-to-day perspective, I take care of all of the plant decisions such as irrigation, nutrition and insects. Working hand in hand with our amazing marsh managers. Also working with flooding, sanding and operations from that standpoint.  Growing up in the non-glaciated region provided me with a great background in the different soil types and the many variables impacting them.
Question: As a cranberry grower, what does a balanced approach to sustainability mean to you?
Answer: A balanced approach to sustainability touches economic, environmental, and social. For us, cranberry growing is a way of life.  A place we raise our kids, our families, our food, and our cranberries.  We do all of this in harmony. When you look at this vision, you touch on all three of these sustainability pillars.  The decisions we make impact all of us, and we take them very seriously. Looking at productivity, we need to maintain it in a way that is going to help on the environment side. In order to do that, it naturally comes together because we are reliant on bees for pollination. Therefore, we have to be cautious in the environment we are going to provide for the bees.
Question: Can you please share a bit more about how the cranberry marsh supports wildlife?
Answer: We have migration of wildlife in the spring and fall. We also have a natural habitat of frogs, fish, and turtles from an aquatic standpoint. We have ducks and many species of birds, including whooping cranes that migrate through. Typically, for every acre of cranberries, we have 5-10 acres of support land. This support land, which consists of uplands, wetlands and open water, is home to wildlife like bears, wolves, and coyotes. 
Question: Is there anything unique you have incorporated into the cranberry growing process, such as new innovative technology?
Answer: We continue to be an industry that is very innovative. We have incorporated digital temperature and moisture sensing and set up systems to help water management and sustainability.  Water is extremely important to us from a quality standpoint.  Where we grow our cranberries is where we also live and where we also raise our families! We have systems in place to help us manage water efficiently. We work with our research community from the University of Wisconsin very closely to help guide best management decisions. We closely watch the plants and respond to what their needs are. To have our university research backing, coupled with what we are seeing with a visual eye, is really encouraging because it shows you can make a connection between how you are observing the plants and what the science demonstrates.
Question: Do you have any advice for women interested in the field?
Answer: Be humble, hungry, and smart. Anyone, no matter what their background, possessing those qualities can be successful in anything they put their mind too. Believe and Achieve!
Question: What are your favorite ways to enjoy cranberries?
Answer: I enjoy  them whole, and put frozen raw cranberries in oatmeal with brown sugar. I also enjoy cranberries in smoothies. They offer amazing health benefits.
Cranberries & Human Health
Cranberries Help Gut Microbiota
Cranberries contribute fiber and other healthful compounds to help improve gut microbiota. Housed in the digestive tract, these microbiota provide many benefits to the body including protection against germs, assistance to the immune system, prevention of leaky gut and production of short-chain fatty acids (SCFA).1 SCFA provide energy to intestinal cells to help strengthen the gut barrier and prevent leaky gut, inhibiting the ability of inflammatory compounds, including lipopolysaccharides (LPS), from stimulating the immune system and causing inflammation.1,2
Saturated fats have a role in the development of obesity and metabolic disease as well as modifying gut microbiota. A high fat diet with high levels of saturated fat may negatively affect the richness and diversity of gut microbiota.3 Although the effects of diet are not fully understood, research supports that limiting saturated fats to less than 10% of total daily calories and consuming enough dietary fiber is important for supporting healthy gut microbiota.1 Prebiotics are one of the most well studied dietary factors linked to improvements in gut microbiota, and cranberry oligosaccharides, carbohydrates found in the berries, exert prebiotic effects on gut and urinary tract microbiota.1,4
Fiber in Cranberries
The fiber in cranberries helps to promote a healthy gut microbiota population. One cup of chopped cranberries supplies 5 g fiber, and ¼ cup of dried, sweetened cranberries supplies 2 g fiber.4
Current diet trends to limit carbohydrates may be harmful to gut microbiota since they include low intakes of fiber, about 10 g daily, when adequate intake of fiber is set at 38 g/day for men and 25 g/day for women, and for those over age 50, the goal is 30 g/day for men and 21 g/day for women.5
In addition to fiber, cranberries provide several healthful compounds to help gut microbiota. Flavanols, A-type proanthocyanidins (PACs) and oligosaccharides are found in cranberries, cranberry juice and certain cranberry supplements.4
Oligosaccharides, PACs and Flavanols Have a Role in Helping Gut and Urinary Tract Microbiota
Cranberry oligosaccharides may help promote the growth of beneficial gut microbiota. When cranberry oligosaccharides are absorbed and excreted in urine, they are thought to exert prebiotic effects on urinary tract microbiota leading to benefits for overall urinary tract health.4
Compounds found in cranberries, including A-type proanthocyanidins (PACs) and flavanols, help to prevent bacterial adhesion, and this action helps maintain a healthy gut bacteria population.2,4,6
Much of the research on PACs and flavanols found in cranberries has focused on their anti-adhesion effects on uropathogens. Biofilm formation is an early step in the development of an infection, and these compounds act to prevent biofilm formation, an antimicrobial action which benefits gut and urinary tract microbiota.6
Cranberries Contain Healthful Compounds to Promote Healthy Microbiota
The complex and dynamic effects of fiber, oligosaccharides, PACs and flavanols found in cranberries can help promote healthy microbiota in both the gut and urinary tract, and emerging evidence supports the potential role the cranberry PACs play in preventing leaky gut.7 When the gut microbiota is supported by a healthful diet, this can lead to protection against pathogens, improvements in gut barrier function and lowered levels of inflammation.1
Sources:
Telle-Hansen VH. Holven KB. Ulven SM. Impact of a Healthy Dietary Pattern on GutMicrobiota and Systemic Inflammation in Humans. Nutrients 2018; 10:1783. doi:10.3390/nu10111783
Wong X, Madrid AM, Tralma K, Castillo R, Carrasco-Pozo C, et al. Polyphenol Extracts Interfere with Bacterial Lipopolysaccharide in Vitro and Decrease Postprandial Endotoxemia in Human Volunteers. Journal of Functional Foods 2016; 26:406–417. http://dx.doi.org/10.1016/j.jff.2016.08.011
Wolters M. Ahrens J. Romani-Perez M. Watkins C. Sanz Y, et al. Dietary Fat, The Gut Microbiota, and Metabolic Health - A Systematic Review Conducted Within the MyNewGut Project. Clinical Nutrition 2019; 38:2504-2520. https://doi.org/10.1016/j.clnu.2018.12.024
Coleman CM, Ferreira D. Oligosaccharides and Complex Carbohydrates: A New Paradigm for Cranberry Bioactivity. Molecules 2020; 25:881. doi:10.3390/molecules25040881
Linus Pauling Institute. Micronutrient Information Center. Oregon State University. Fiber. Available at: https://lpi.oregonstate.edu/mic/other-nutrients/fiber, accessed 3/11/2021
Blumberg J, Basu A, Krueger CG, Lila MA, Neto CC, et al. Impact of Cranberries on Gut Microbiota and Cardiometabolic Health: Proceedings of the Cranberry Health Research Conference 2015. American Society for Nutrition. Adv Nutr 2016;7(Suppl):759S–70S. doi:10.3945/an.116.012583
Gonzalez-Quilen C. Rodriguez-Gallego E. Beltran-Debon R. Pinent M. Ardevol A, et al. Health Promoting Properties of Proanthocyanidins for Intestinal Dysfunction. Nutrients 2020; 12:130. doi:10.3390/nu12010130
To stay up-to-date with cranberry health science, visit the Cranberry Health Research Library. The Library is your source for research abstracts and references categorized by topic areas. The whole-body investigations include the study of cranberries and the health of the urinary tract, heart and gut. Studies also explore cranberry's role in cancer prevention, glucose metabolism and inflammation. 
Discover our latest comprehensive chronicle of cranberry's existing and emerging whole-body health benefits.
The Cranberry Chronicles are consistently updated with breaking scientific abstracts, articles, sharable resources, infographics and story ideas. Learn more by reading The Cranberry Chronicles!
Things are heating up, outside and in the kitchen! Cranberries are a spring favorite providing studied health benefits! Check out these mouthwatering recipes from our Bog Blogger Network.
Zero Waste Cinnamon Apple Chickpea Cookies
These plant-based, cranberry-packed cookies by bog blogger Erin Hendrickson, RDN are SO easy, and completely customizable too!  
A fun twist on homemade trail mix, this Cheerio Trail Mix by bog blogger Tawnie Kroll, RDN is filled with dried cranberries, nuts, and seeds to create a delicious combination.